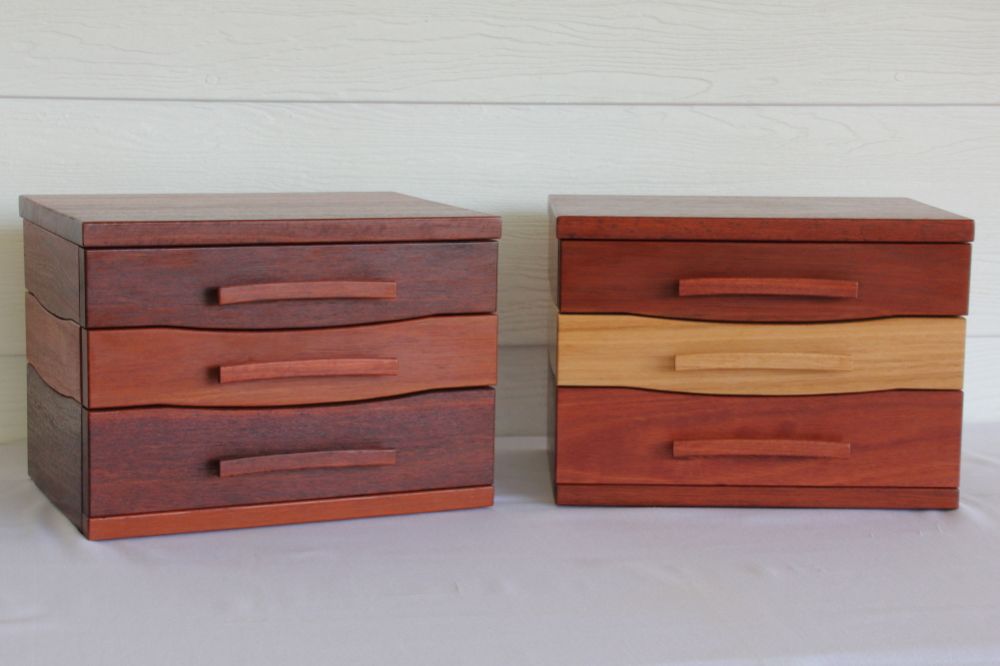 The Expandable Jewellery Box is a set of wooden drawer modules which can be stacked on top of one another and lock together to form a single unit. No tools are required to stack the units together. The curved sides of the drawer unit, together with a small wooden pin at the back of each unit, are what keeps the units stacked securely, preventing them from sliding off each other.
The Expandable Jewellery Box has the advantage of easily being expanded when you run out of space. You can purchase additional drawers and just stack them on top of units you already own and increase your storage space. The additional drawer modules available are a small 2cm deep drawer and a larger 4cm deep drawer. Both of these modules are available with exteriors of either Jarrah (a dark red timber) or Blackbutt (a blonde timber), and an interior of Victorian Ash (a blonde timber). This allows you to mix and match colours and drawer sizes to suit your taste.
The Expandable Jewellery Box is made entirely out of Australian timbers and would make a great gift for anyone who appreciates this natural resource.
What Modules Are Available?
Jewellery Box Set
The Expandable Jewellery Box is sold as a set of three drawer units – a base unit (4cm deep drawer) which can only be used to stack other units on top of it, a middle stackable drawer (2cm deep drawer), and a top unit (2cm deep drawer) which cannot have anything else stacked on top of it. This set is available in the following colour combinations, or you could request a custom combination if preferred.
Individual Drawers
Once you have one of the above jewellery box sets, you can then purchase additional drawers to increase your jewellery storage capacity as required. There are two types of additional drawer available – a standard 2cm deep drawer and a large 4 cm deep drawer. Both of these drawer units are available in either Jarrah or Blackbutt, so you can create a custom jewellery box which is unique to you.
Optional Drawer Dividers
When purchasing a standard drawer unit you have the option to purchase additional drawer dividers with either 12 compartments or with slightly smaller 15 compartments.
How to Purchase
The Expandable Jewellery Box Sets and the individual Drawer Units are all available for purchase on our online shop.
For more pictures of this jewellery box system check out the photo gallery.